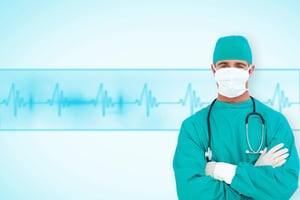 Stents are commonly used as complementary devices during conventional percutaneous transluminal angioplasty (PTA) balloon catheterization in peripheral vascular procedures. The placement of a stent mitigates some complications, such as negative remodeling and elastic recoil effects. However, post-surgery complications, such as restenosis, occur in up to half of the patients who have undergone PTA procedures. 
Arterial PV stents are made up of bare-metal stents (BMS), covered stents, and drug-eluting stents (DES). This article provides an overview of these three types of arterial PV stents and their related markets in Europe.
Bare Metal Stents
Bare metal stents are typically made of stainless-steel, cobalt chromium, or platinum chromium. When implanted into narrowed or blocked arteries, bare metal stents help restore blood flow by acting as scaffolding to keep the artery open. The stent's mesh design allows for flexibility and supports the vessel walls, preventing them from collapsing. Stainless steel BMSs have successfully reduced the incidence of complications, such as abrupt vessel closure and restenosis, especially when compared to balloon angioplasty, and has thus decreased the rate of target lesion revascularization [1].
Covered Stents
Covered stents compete with traditional bare-metal stents in peripheral applications. Typically, covered stents are traditional metal stents that are laminated with a resistant, low-friction cover made from polytetrafluoroethylene. Because of this improvement, covered stents have reduced rates of wall restenosis and other complications. However, their significant price premium over BMSs limits the adoption rate of the devices. Covered stents are used more frequently in longer lesions, as they provide higher patency rates than BMSs.
Drug-Eluting Stents
Drug-eluting stents are similar in structure to bare metal stents, consisting of a metal mesh-like tube; however, they have an additional coating that releases medication such as sirolimus and paclitaxel over time. When implanted into narrowed or blocked arteries, drug-eluting stents not only provide mechanical support to keep the artery open but also deliver medication directly to the arterial wall. This drug release helps inhibit the growth of scar tissue, reducing the risk of restenosis and the need for repeat procedures. DESs are commonly used in patients with complex lesions or at a higher risk of restenosis [1].
Comparison of Stent Types
When comparing bare metal stents (BMS), covered stents, and drug-eluting stents (DES), several factors come into play, including price, use, technology, and popularity.
In terms of price, BMSs are generally the most cost-effective option since they lack the additional cost of drug coating or specialized coverings. Covered stents, on the other hand, are more expensive due to the extra materials used for the stent covering. DES is typically the most expensive stent type due to the added cost of drug coatings and advanced technology.
The use of these stent types varies depending on the procedural scenarios. BMSs are commonly used in patients who require shorter-term dual antiplatelet therapy or have a higher risk of bleeding complications. Covered stents find their primary application in cases where a stent needs to exclude a segment of the vessel, such as in aneurysm or perforations. DES, known for their ability to prevent restenosis, are frequently used in patients with complex lesions or a higher risk of restenosis.
Technologically, BMSs are relatively simple in design, consisting of a metal mesh-like structure without specialized coating or coverings. Covered stents incorporate an additional layer, such as fabric or polymer covering, that improves stent deployment and provides a barrier against the vessel wall. DES is more advanced, utilizing drug-coated polymer or metallic surface to release medication over time and inhibit restenosis. Due to these technological differences, these stent types are able to be used in various procedures; additionally, the versatility in stent options allows clinicians to tailor treatment strategies based on the specific needs of each patient, promoting better clinical outcomes.
In term of popularity, BMSs have historically held a dominant market share, but have seen a decrease in popularity with the emergence of DES. Covered stents, although not as prevalent, have gained popularity in specific clinical applications. DES popularity is notably increasing due to their superior clinical outcomes in reducing restenosis rates and improving long-term vessel patency. They have become the standard of care in many cases, particularly for complex lesions or high-risk patients.
Market Review
The value of the drug-eluting (DES) market is expected to exhibit a significantly accelerated growth rate in the coming years, surpassing that of covered stents and bare metal stents (Figure 1). This remarkable growth can be attributed to the superior clinical outcomes associated with DES, primarily the notable reduction in the risk of restenosis and the need for repeated interventions. As a result, healthcare professionals are increasingly favoring the utilization of DES in patients with intricate lesions or individuals who possess a heightened susceptibility to restenosis. By capitalizing on the advanced technology and drug-coated surfaces of DES, clinicians aim to optimize patient outcomes and minimize the requirement for further medical interventions.
Figure 1: Growth Rate of Arterial Peripheral Vascular Stent Types (2022)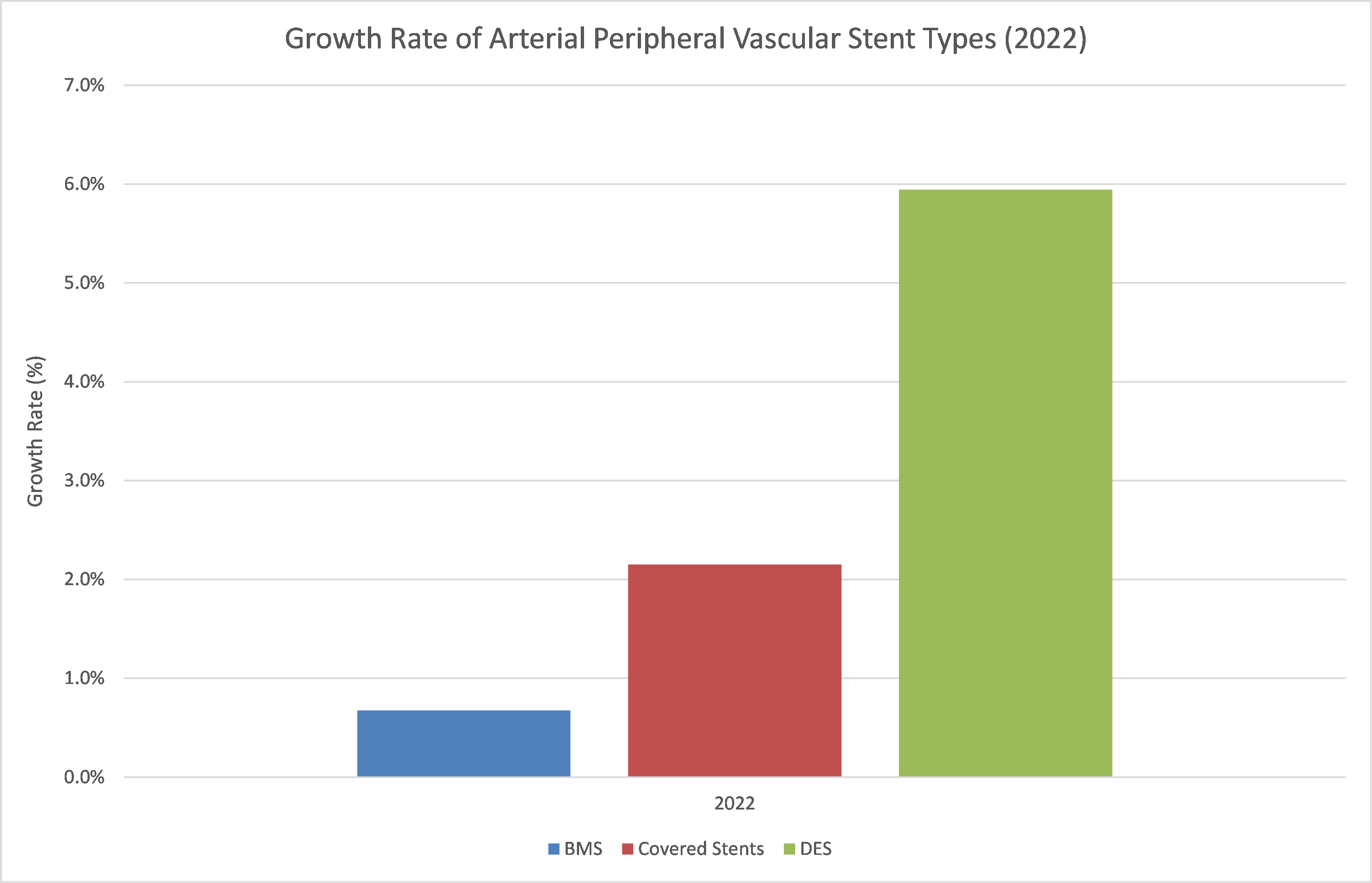 In 2022, bare metal stents (BMS) held a prominent position in the overall market, capturing the majority of the market shares (Figure 2). Despite the anticipated surge in the drug-eluting stent (DES) market, the value of the BMS market is projected to remain significantly higher than that of covered stents and DES in the forthcoming years. Several factors contribute to this phenomenon, including the cost-effectiveness of BMS, their suitability for specific clinical scenarios, and the preference for shorter-term treatment options among certain patient populations. These factors collectively contribute to the continued demand and sustained market dominance of BMS.
However, it is important to note that the field of interventional cardiology is constantly evolving due to ongoing technological advancements. As technological innovations continue to drive progress in this domain, the market dynamics for stents are expected to undergo a transformation. Overtime, DESs are poised to gradually gain a larger market share, as they have demonstrated superior clinical outcomes in terms of reducing restenosis rates and improving long-term vessel patency. Additionally, the price is expected to decease moderately in the coming years. With ongoing advancements and increasing adoption, DESs are likely to play a more significant role in the treatment landscape.
Figure 2: Market Share of Arterial Peripheral Vascular Stent Types (2022)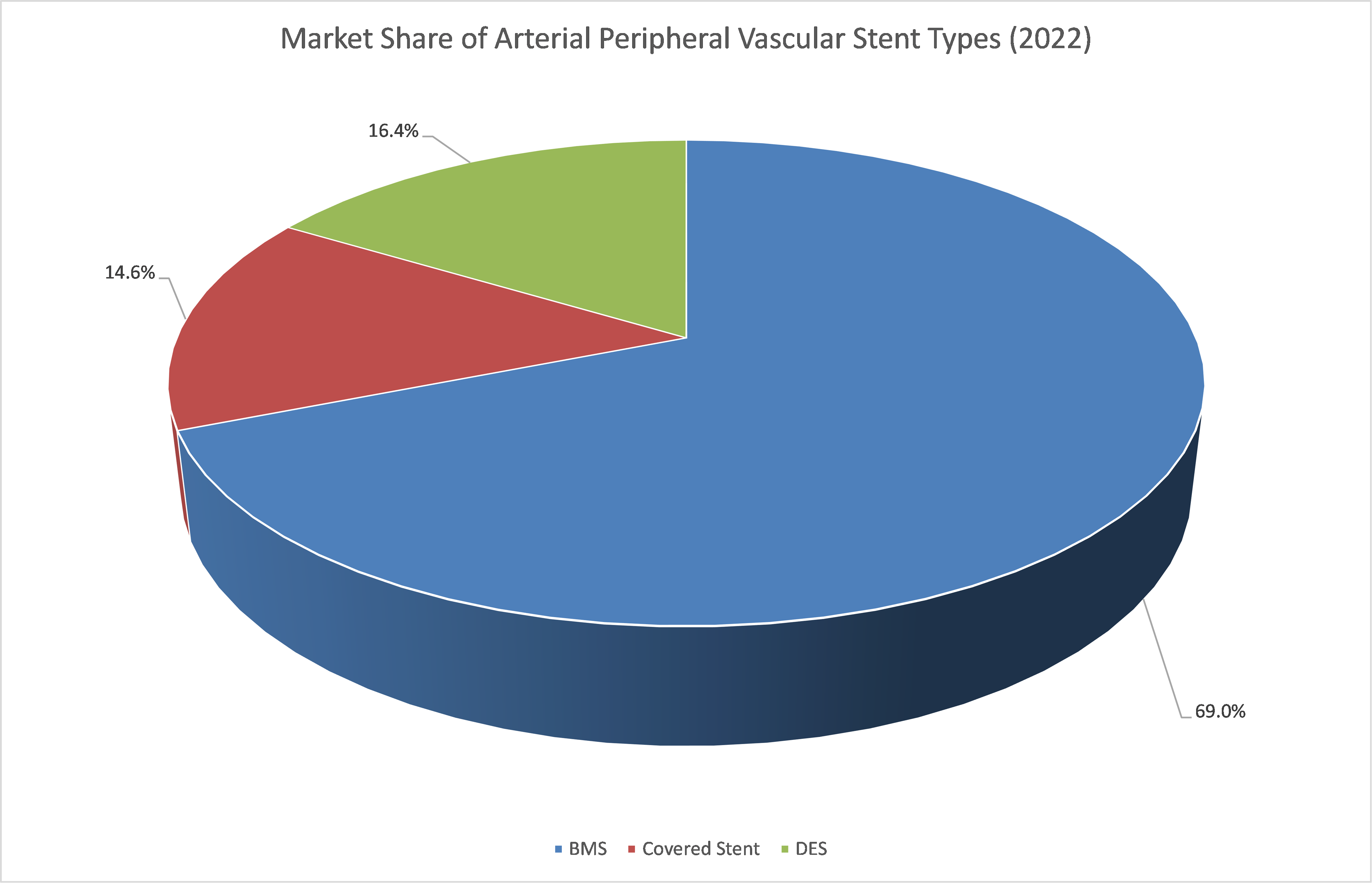 In the BMS market, Medtronic emerged as the frontrunner in 2022, owing to the widespread popularity of its EverFlex peripheral stents. Medtronic's strong market presence propelled the company to a leading position, with Becton Dickinson and Cardinal Health following closely behind. Meanwhile, the covered stent market was dominated by W.L. Gore in 2022, primarily due to the success of its VIABHAN portfolio. In the DES market, Cook Medical secured the largest market share in 2022. Cook Medical's Zilver PTX drug-eluting peripheral stent achieved remarkable success, enabling the company to claim the top position in this competitive market segment. Boston Scientific trailed Cook Medical with a moderate difference of market share.  
Conclusion
This article provides an overview of the arterial peripheral vascular stent market in Europe focusing on BMS, covered stents, and DES. BMSs offer cost effectiveness, covered stents provide higher patency rates, and DESs have a greater ability to reduce restenosis. The market review indicates that the DES market exhibits the most significant growth rate, which will continue into the forecast. However, BMSs are projected to maintain a prominent position in the market due to their cost-effectiveness and suitability for specific procedures. In terms of market leaders, Medtronic, W.L Gore and Cook Medical emerged as frontrunners in the BMS, covered stent, and DES markets, respectively.
For further insights, please see the report Peripheral Vascular Devices Market Analysis, Size, Trends – Europe – 2023-2029 by iData Research.
About the Authors
Maryam Hashemi is a research analyst at iData research. She develops and composes syndicated projects regarding the medical device industry, publishing the European Peripheral Vascular Device Market report.
Kamran Zamanian, Ph.D., is CEO and founding partner of iData Research. He has spent over 20 years working in the market research industry with a dedication to study of medical devices used in the health of patients all over the globe.
About iData Research
For 16 years, iData Research has been a strong advocate for data-driven decision-making within the global medical device, dental and pharmaceutical industries. By providing custom research and consulting solutions, iData empowers its clients to trust the source of data and make important strategic decisions with confidence.
References
1. Labato E.B., 2019. Care of the Patient With Coronary Stents Undergoing Nancardiac Surgery. Essentials of Cardiac Anesthesia for Nancardiac Surgery.
2. iData Research Inc. Peripheral Vascular Devices Market Analysis, Size, Trends – Europe – 2023-2029. Published June 2023.