We're delighted to introduce you to three new ways to change the landscape of your ratings and reviews. Since 2010, Field Agent's goal has been to provide brands with the fastest, most affordable Ratings & Reviews retail solution. Personalized and crafted with CPG brands in mind, the offerings below are meant to give you full access to the power of our crowd of over 2 million users—allowing them to leave quality reviews with unparalleled speed.
Ratings & Reviews Subscriptions
Subscription packages are now available based on the amount of annual reviews you'd like each calendar year. Annually plan your amount of product reviews with our team of experts—allowing you to choose the volume of reviews and additional features included. The more reviews you choose, the more you save.
Our four packages are designed to provide you with the highest quality reviews and service: Starter, Plus, Pro, and Custom. Each package enables you to execute flawless product launches, build brand value, and improve your shopper's ecommerce experience.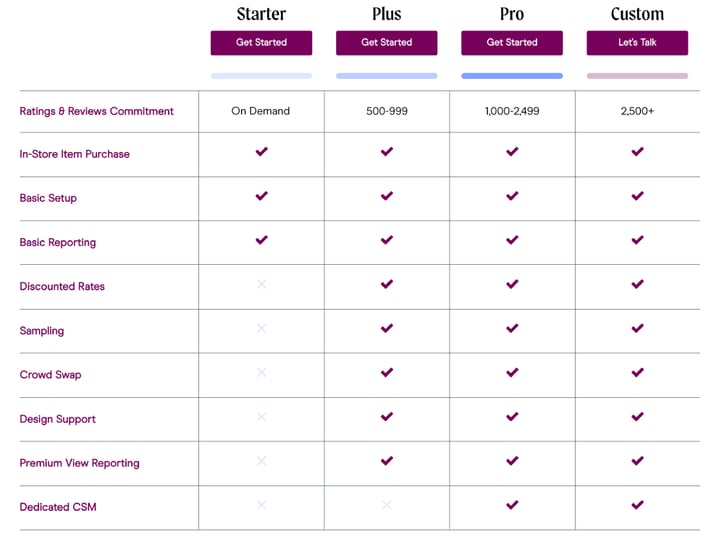 The Starter package is Field Agent's original on-demand reviews, marked at their original low price. Rest assured, all included features including purchase verification, basic setup, and basic reporting user experience will not change for current users.
Pre-Launch Ratings & Reviews System
In accordance with Walmart's encouragement to have product reviews on each ecommerce page before a product hits the shelf, Field Agent has created an all-encompassing Pre-Launch Ratings & Reviews system.
Populate your product pages with vibrant reviews before they go live. No one can get you your new item reviews more efficiently, with greater speed. And, with our trusted fulfillment partners, we're the best solution for getting your reviews on your items on Walmart.com.
The process is simple.
After shipping your product to our trusted 3rd party partner, they'll ship your product to our vetted Agents. The Agent will try your product at home, then write an authentic review on the site of your choice. Once your item is live, your ecommerce product page will be populated with fresh reviews.
Unlike other Ratings & Reviews Solutions, our fulfillment partners are efficient and effective—ensuring you get reviews on site in days, not months.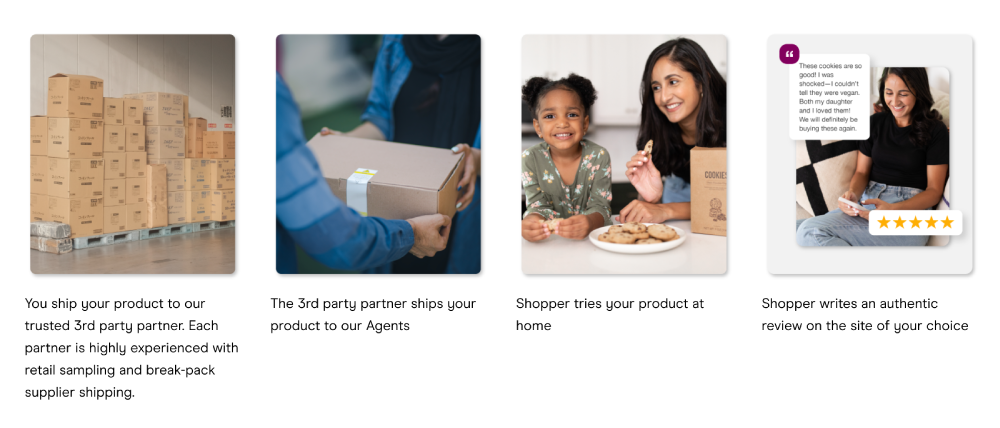 Live Ratings & Reviews Collection Event
Have large, expensive, or tough-to-review items but still want UGC feedback? We're talking large couches, outdoor gear, unique technology—let Field Agent help you host an Item Experience Event. 
Customers have the opportunity to enjoy your item in-person at a staged event at their local retailer, and then leave native reviews on the spot. This model of Review collection allows shoppers to experience your products like they couldn't before. Live Review Events were specifically built to enable your more unique products to get a large volume of reviews, all while maintaining freshness and authenticity. 
Harness the power of the crowd and book a Live Reviews Event today.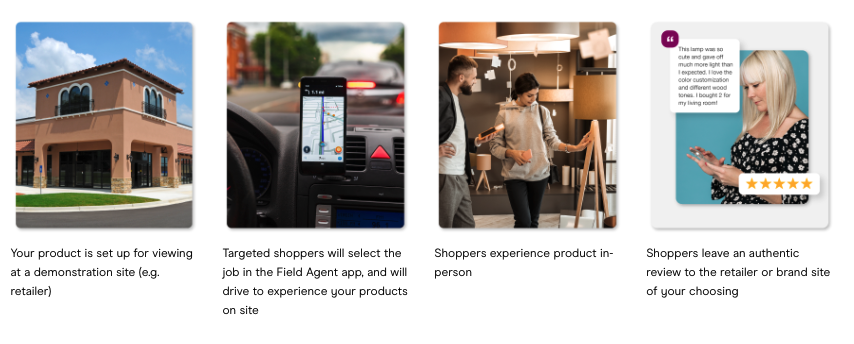 Field Agent is a Preferred Walmart-Integrated Partner
Field Agent Ratings & Reviews are fully integrated with Walmart's UGC Syndication requirements. Field Agent is thrilled to be announced as a preferred Ratings & Reviews partner for the #1 retailer in the world. 
This new Walmart partnership for Ratings & Reviews directly changes the way your brand does ecomm — and Field Agent can show you how. The Field Agent app has surpassed over 2 million users, creating a nationwide, powerful engine that can leave reviews anytime, anywhere on Walmart.com.
See all our Ratings & Reviews offerings on the Plum marketplace.